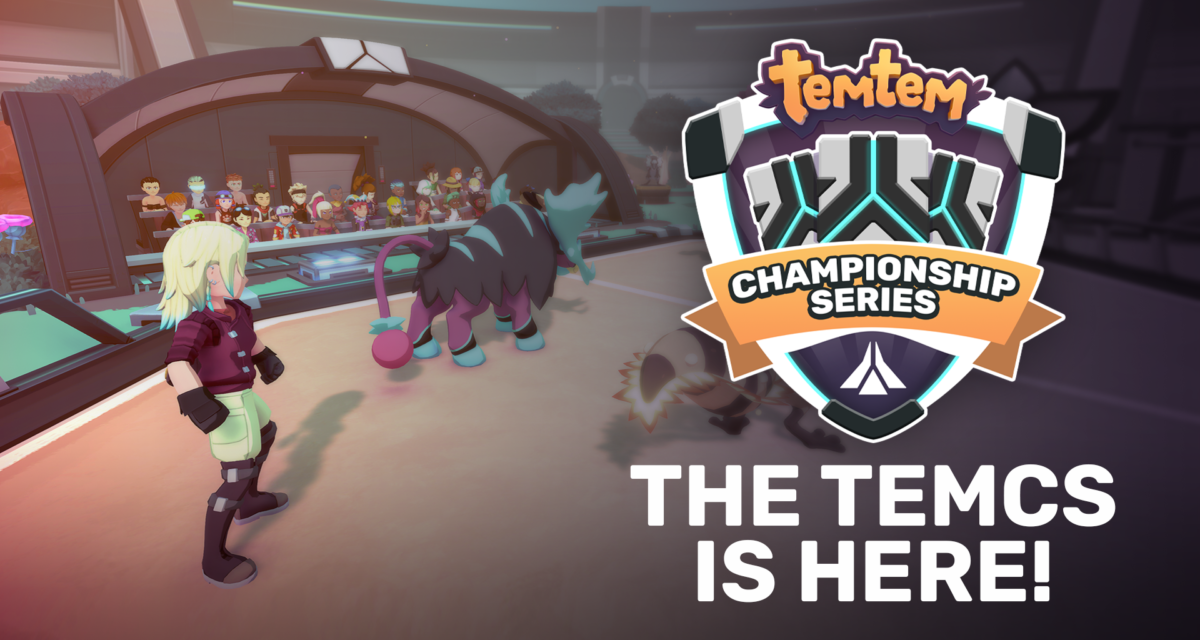 Temtem Championship Series: everything you need to know.
Temtem Championship Series
The Temtem Championship Series (or TemCS, as we like to call it), is Crema's officially-sanctioned tournament series. It will take place in 2023, with the possibility of celebrating future editions based on the success and interest it generates in this inauguration .  Players around the world will be split into 3 regions to compete in a set of regional and interregional tournaments throughout the year, battling for Tamer Rating Points (TRP) to qualify for the Temtem World Championship, where the strongest Tamers around the globe will fight for the title of World Champion.
While we are very excited to announce it, keep in mind this is our first time maintaining an official competitive scene, so while we plan to stick to the format presented below, changes might be made to the circuit in the future to better fit and adapt to the needs of the competitive player base.
Without further ado, let's take a look at the TemCS!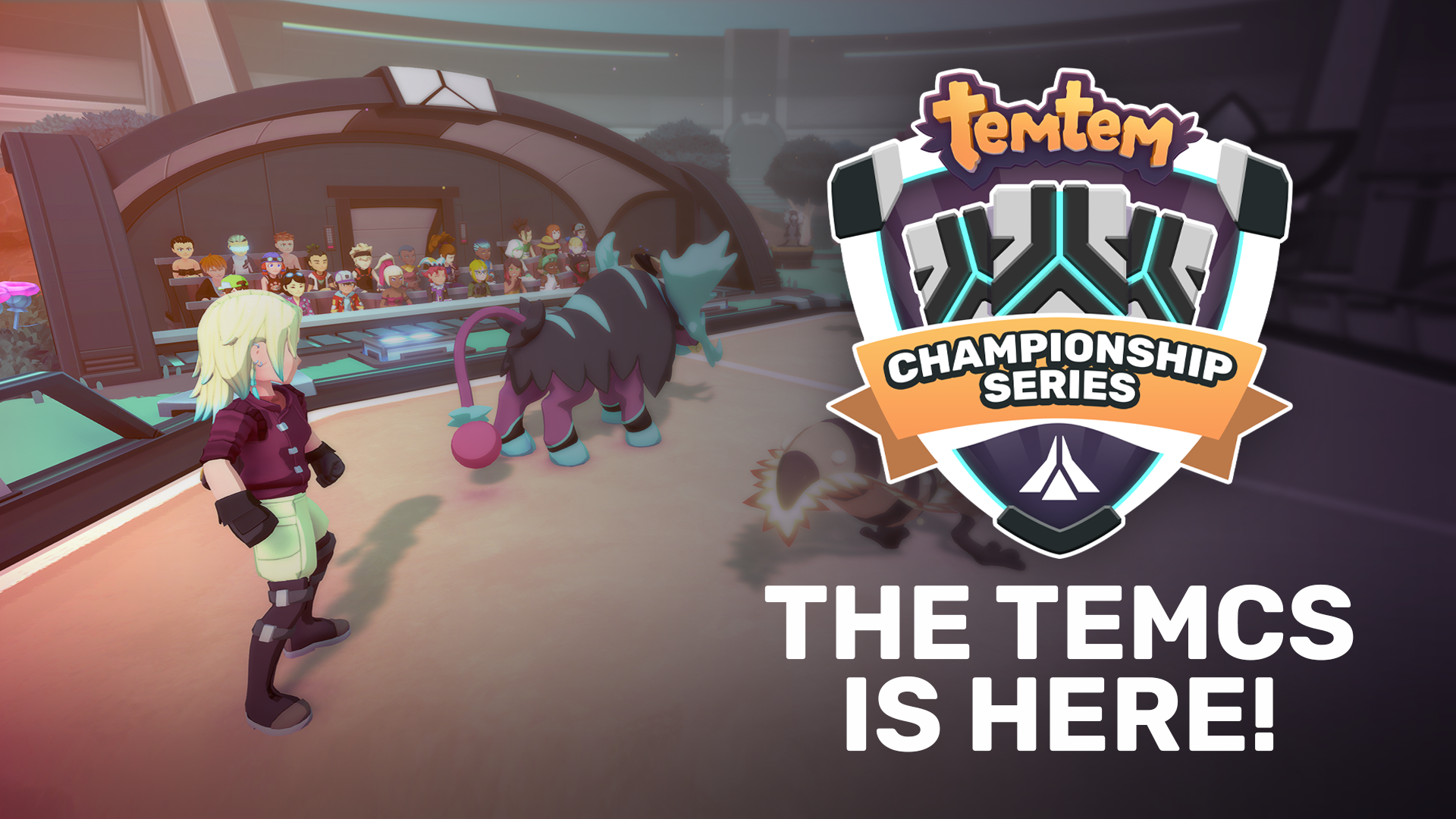 Format
TemCS tournaments are played using the Temtem competitive battle format. Matches are sets of best of 3 (Bo3). This means every match consists of 3 consecutive games, where a player is declared winner immediately after having won two of the games. Side selection is assigned at random during the first game of every match, and after that, the loser of the last game picks a side in the next one.
During TemCS tournaments players will usually be locked into one team they must submit before joining by using the team-lock code feature in-game. Only some tournaments will allow players to swap or submit a new team after advancing to a different stage.
Most tournaments will be split into 2 different stages:
A Swiss stage, where all players compete to qualify for the next stage.

A double elimination bracket, where only the top players from the Swiss stage face off to win the tournament.
Depending on the size and length of the tournament, both stages can be played on the same day, or the double-elimination bracket can be played the day after the Swiss stage. On smaller tournaments, only the double elimination bracket will be played. All tournaments are to be played during weekends to maximize player availability.
Regions
Players will be separated into three regions: AMER (America), EMEA (Europe, Middle East & Africa) and PCFC (Asia & Oceania).
Each region will hold its own regional tournaments and keep an internal TRP leaderboard of all its players. Every few months, players of all regions will be able to compete at interregional tournaments, with bigger rewards and TRP gains.
Players will be assigned a region based on their country of residence the first time they register to temcs.gg, Crema's official esports platform, but they will be able to swap to another region if they wish to do so. If a player had won TRP in regional tournaments before asking for a swap, they will lose them.
Our goal with regions is to create different sets of tournaments that fit the schedule of multiple kinds of players, regardless of their location or availability. So while each region will hold tournaments that fit their average player's schedule, players will be able to swap to a new region if it is convenient for them, regardless of geographic location.
Splits
The TemCS is composed of three splits culminating in the Temtem World Championship.
Splits are linked to an in-game season, starting and ending at the same time the Season does. This means splits last around three months each.
During each split, every region will hold a number of regional tournaments. All the splits conclude with an interregional tournament where everyone can participate. Winning matches in those tournaments will grant TRP. In-game seasonal rewards will also grant TRP at the end of each split.
Tournaments
There are three kinds of tournaments: Regional, Interregional and Closed tournaments.
Regional tournaments
Regional tournaments are, as their name implies, tournaments where only players of a certain region can participate. There are two kinds of regional tournaments:
Regional Open

: The most frequent tournaments. Each region will usually hold around 2 per split. These don't have a monetary prize, but you can win a moderate amount of Novas and TRP by reaching the top scores. A good place to start your competitive journey or enjoy a competitive environment without high stakes in the line.

Regional Championship

: A tournament near the end of the third split to crown the champion of that region. They have a monetary prize and a significant amount of Novas and TRP as rewards. The winner also receives a direct qualification to the main stage of the Temtem World Championship, as well as a regional champion in-game title.
Interregional tournaments
Opposite to Regional tournaments, Interregional tournaments are open for all players regardless of their region. Since they are bigger, they last longer and offer bigger prizes for top players. Interregional tournaments take place at the end of each split.
Interregional Open:

Special tournaments at the end of the first and second split. They have a monetary prize and a generous share of Novas and TRP as rewards.

Interregional Qualifier:

These take place at the end of the third split. They have a significant monetary prize pool and an enormous pool of Novas and TRP as rewards. The top 3 players also win a direct qualification to the main stage of the Temtem World Championship.
Each interregional tournament will be held taking into account a particular region's timezone, so that players of all regions have at least one accessible Interregional tournament where they can participate.
Closed tournaments
Closed tournaments require players to meet certain conditions and criteria in order to receive an invitation to participate, usually by scoring a certain amount of TRP or reaching a certain rank in their regional leaderboard. Closed tournaments have the biggest prize pools and, unlike other tournaments, we plan to broadcast them live.
Dissimilar to other events, these use custom formats instead of the standard swiss + double elimination bracket format.
Mid-Year Invitational Tournament: 
It will only be held once, and it'll take place at the beginning of the third split. Only the top 5 players of each region will be invited to participate (based on TRP leaderboards). It will be organized as a double-elimination bracket where the top player of the strongest region gets an immediate bye. All participants will get a monetary prize according to their standing at the end of the tournament. The winner will qualify for the main event of the Temtem World Championship.

Temtem World Championship.


The Temtem World Championship is divided into 3 stages: the Last Chance Qualifier (LCQ), the Play-Ins, and the Main Stage. Only the Main Stage is broadcast.




During the

LCQ

a number of qualified players compete in a swiss-system tournament. The top players will advance to the

Play-Ins

, where they will face off against another set of qualified players in another swiss-system tournament. The top 16 players of the Play-Ins advance to the

Main Stage

. The LCQ and the Play-Ins are not broadcasted.




At the main event, the 16 players qualified via Play-Ins will battle against other 16 players qualified via other different qualification methods (like winning certain tournaments or being at the top of a regional leaderboard) and will compete until only a winner is crowned as the Temtem World Champion. All participants at the main stage win prize money according to their standings at the end of the event. The world champion will get an exclusive in-game title and cosmetics as well.
Prize Pools
Monetary prizes, TRP, novas and other in-game goodies.
In-game and monetary prizes are rewarded based on your final standings at the end of the tournament.
(Please note that these figures are gross revenue and will vary after shipping fees, taxes, etc.)
Tamer Rating Points, however, are awarded to players for each victory in a tournament match, or as end-of-season rewards.
Peak legend players will win +30 TRP at the end of every split as an end of season reward.
Peak diamond players will win +10 TRP at the end of every split as an end of season reward.
Dates
We will be pushing the dates for all tournaments happening in a split a few weeks before the next in-game Season starts. Of course, this season has already started so, in order to give everyone adequate time to prepare, we will be announcing the dates of the Tournaments for the First Split of the TemCS 2023:
EMEA:
Date: January 7th, 8th
Start: 9:00am WET / 10:00am CET / 11:00am EET
(9:00am UTC)
Date: February 4th, 5th
Start: 8:00am WET / 9:00am CET / 10:00am EET
(8:00am UTC)
America:
Date: January 21st, 22nd
Start: 7:00am PST / 10:00am EST / 12:00pm GMT-3
(3:00pm UTC)
Date: February 18th, 19th
Start: 10:00am PST / 1:00pm EST / 3:00pm GMT-3
(6:00pm UTC)
Pacific:
Date: January 14th, 15th
Start: 9:00am GMT+7, 10:00am GMT+8, 11:00 am GMT+9, 12:00pm GMT+10
(2:00am UTC)
Date: February 11th, 12th
Start: 8:00am GMT+7, 9:00am GMT+8, 10:00 am GMT+9, 11:00pm GMT+10
(1:00am UTC)
Interregional events:
Date: March 4th, 5th
Start: 2:00am CET, 10:00 GMT+9, 5:00pm PST(friday), 8:00pm EST(friday)
(1:00am UTC)
Closure
We hope you are as excited about the TemCS as as we are!
Like we explained before, this is the first time we organize something at this level, so we hope to quickly fix and polish all the possible mistakes and issues we might find along the way. Please don't be afraid and give us your feedback at the competitive feedback channel in our Discord server. We can't wait to fight you in the battle arenas and we are incredibly eager to see how far Temtem's competitive and esports scene might take us.
The TemCS is here. Get ready to Temtem Up!